On Saturday October 19, 02013, Long Now participated in Exploratorium Market Days—a series of free, outdoor "mini-festivals" geared to educate the public through the science and art communities and museums. The theme of the month was "Heirlooms," which focused on the "diverse treasures that we preserve and pass along to future generations."
Together the Rosetta and PanLex Project staff presented the intangible culture of language in a very tangible way—the Rosetta Disk and temporary tattoos.
The PanLex Project is building an enormous database with the goal of translating all of the words of all of the world's languages. They created an interface to this database where people could either choose from a list of commonly-used words in tattoos, such as "patience" or "victory," or enter one of their own choice.
The next screen listed all the translations of that word in the PanLex database, sometimes for hundreds of languages. People were captivated at looking through the list and deciding which language to print their tattoo in. For some, the deciding factor was an interesting script, or because only a handful of people spoke that language. For others it was a language they themselves spoke and personally connected with.
In addition to the PanLex and Rosetta Project staff, Exploratorium Explainers helped run the booth. These are a diverse group of high school students interested in learning new things while explaining and helping others in the process.
On a more permanent role of archiving and preserving languages, the Rosetta Disk was also on display. A steady stream of people viewed the micro-etched languages with a microscope throughout the day.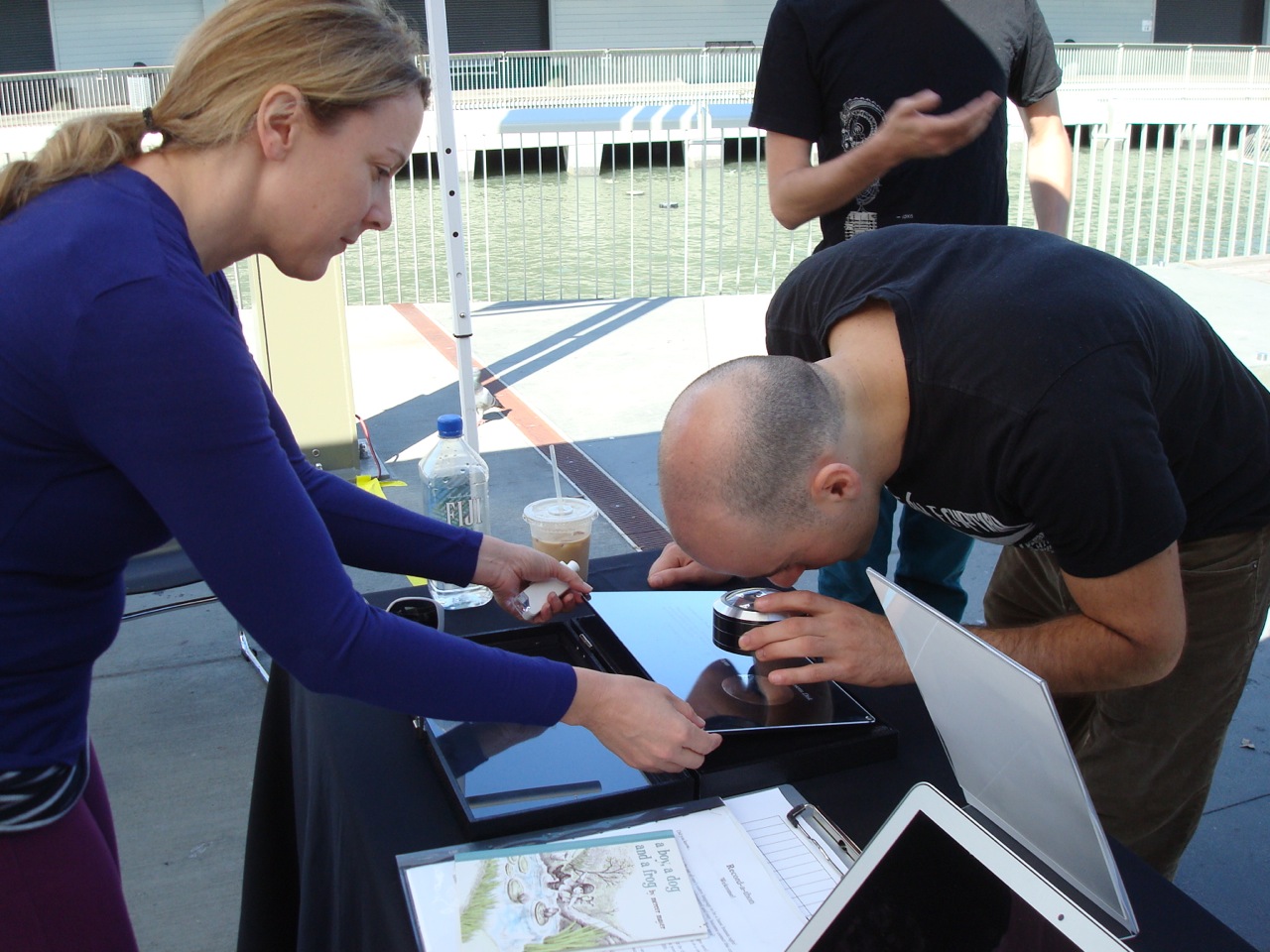 Exploratorium's Director of Public Programs Melissa Alexander invited Long Now to participate in Market Day. She wanted people to get a sense of the vast amount of languages while understanding that like many species, languages are endangered and are disappearing from the planet regularly.
"I had a Ray Bradbury moment–I wanted everyone to learn how to say hello, please & thank you and welcome in at least one endangered language. Loved the setup and clearly our Explainers did too–if our Explainers like it, it's golden–teenagers are great thermometers."
Explore over two decades of long-term thinking