Photo by Christopher Michel
The Interval brickstarter ends on October 1 at 5pm–that's the last chance to become an Interval Charter Donor. We've set two ambitious stretch goals to reach before it ends: raising $550,000 in total (about $42K to go) and having 1000 total donors.
Thanks to hundreds of supporters around the world we have funded our 'brickstarter' for The Interval's construction! This achievement was possible thanks to more than 700 long-term thinkers (and counting) who have donated over the last 2 years.
Our supporters gave from around the US and the world: Atlanta to Zurich; Australia to Croatia; New Hampshire to Hawaii! Thank you all for your generosity in helping build a one-of-a-kind venue, The Long Now Foundation's new home: The Interval at Long Now.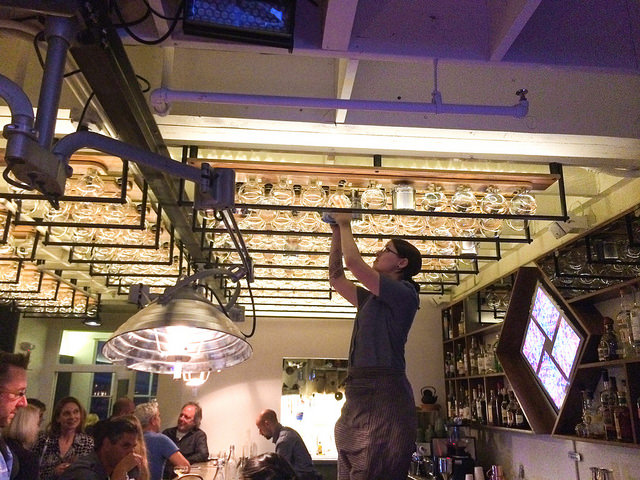 Photo by Because We Can
The Interval is now open to all 10AM to Midnight every day at Fort Mason Center in San Francisco. The names of our Charter Donors will soon be listed on our Donor Wall within The Interval as thanks for their support in making our new home a reality.
The money raised will help fund the Interval's two robots by October 1st.
Let's meet our Robots… 
The Bespoke Gin Robot will be stationed behind the bar and wields an array of 15 botanicals including coriander seed, lemon peel, and apricot kernels. Each botanical is individually distilled by the amazing folks at St. George Spirits and the bot's with components were made by Party Robotics. 
Gin Robot design image by Because We Can

Including the juniper spirit base, the Gin Robot can create custom gin to-order in 87,178,291,200 possible combinations. The Interval could serve up a different gin variation each day for the next 238 million years. It's our hope that this cocktail possibility machine will be worthy of sitting next to Brian Eno's Ambient Painting.

Top 10 donors in the stretch phase get invited to a special tasting with the Gin Robot.

Our Chalkboard Robot has been designed by artist Jürg Lehni. The chalkboard itself is now up at The Interval. It awaits the artist's arrival from Switzerland to install the bot which will then write or draw by our command. Below you can see Viktor, out robot's elder cousin, in action.

In addition to all our usual donor benefits, if we hit BOTH the $550K mark and reach 1000 donors, we have a couple of Long Now surprises planned to thank all of our charter donors.

Everyone who donates by October 1 will be a charter donor. All of our great donor perks like Challenge Coins, Long Now flasks, and bottle keep bottles of exclusive St George Bourbon, Single Malt, or Bristlecone Gin are still available.
The stretch goal of $550,000–adding $55K to our brickstarter total–will help cover costs associated with building and installing the robots. We've set a participation stretch goal of 1000 Donors (less than 300 to go!).
The Interval is intended to be both a community hub and a funding source for the Foundation going forward. Your donations help to defray our construction and startup costs, so your generosity is incredibly important to getting this endeavor off on a flying start toward profitability.
If you haven't donated, please consider a gift by October 1, to become a Charter Donor and enjoy first chance to buy tickets to Interval events and be listed on the Donor Wall. You'll also be a part of starting up a unique venue that helps get important ideas about long-term thinking into the world.
If you have donated, thank you! We'd appreciate your help spreading the word before the October 1 deadline. And remember gifts (and employer matches) are cumulative–consider going up a level? We have only days left to reach our stretch goal and fund these wonderful additions to The Interval's array of mechanical wonders.
Photo by Because We Can
Explore over two decades of long-term thinking